Blog
DIY: How to Create Your Own Digital Business Card
by Team miitap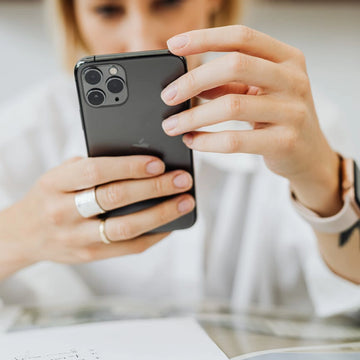 Are you tired of handing out crumpled, stained business cards that look like they've been through the wash? Say goodbye to those paper monstrosities and hello to the future of networking with a DIY digital business card!
In this guide, we'll show you how to create your own sleek and professional digital business card using miitap, the ultimate tool for all your digital card-making needs.
But first, let's talk about why you should make the switch to digital business cards. Not only are they more environmentally friendly, but they also allow for more customization and flexibility. Plus, with the rise of NFC technology, you can easily share your digital card with a simple tap of your phone.
So, without further ado, let's get started on creating your very own digital business card.
Step 1: Gather Your Information
Before you start designing your card, you'll need to gather all the information you want to include. This can include your name, job title, company, phone number, email, and website. You can also include a headshot, a logo, and social media links. Make sure that all the information is up to date and accurate. There's nothing worse than handing out a business card with the wrong phone number on it (trust us, we've been there).
Step 2: Sign up for miitap
To start creating your digital business card, you'll need to sign up for a free miitap account. Once you're logged in, you'll be taken to the card editor where you can start designing your card. The process is easy and straightforward, and you don't need to have any design skills to create a professional looking card.
Step 3: Design Your Card
Now comes the fun part! miitap offers a wide variety of customizable templates to choose from, so you can create a card that truly reflects your personal brand. You can change the color scheme, add photos and graphics, and even include a QR code for easy scanning. Don't be afraid to get creative and experiment with different designs. And if you're ever unsure of how your card will look, you can always preview it before you finalize it.
Step 4: Add Your Information
Once you've got your design all set, it's time to add your information. Simply fill in the fields with your contact details and you're good to go. Make sure to double-check everything to ensure that there are no typos or errors. A small mistake can make a big difference in how professional your card looks.
Step 5: Share Your Card
Now that your card is complete, it's time to share it with the world. You can easily share your card via email, text, or social media. And with the built-in NFC technology, you can even share your card with a simple tap of your phone. You can even share your card with multiple people at the same time, making it easy to pass along your information to a group of people.
Make an Impression with Metal
Want to take your digital business card game to the next level? Experience the exclusivity of our custom-designed metal cards, a perfect blend of luxury and professionalism. These cards are engraved with your company logo and come with built-in NFC technology and a dynamic QR code, making it even easier to share your card with a simple tap or scan. Impress your clients and stand out in the industry with our high-quality custom metal business cards. Order now and take your networking to the next level!
In conclusion, creating a digital business card with miitap is easy and fun, whether you want to create a simple card with your contact information or a more elaborate card with custom designs and graphics. With the added convenience of NFC technology and the option of custom engraved logos on metal cards, you can create a digital business card that truly reflects your personal brand and makes a lasting impression. And remember, the future is digital, so why not make the switch today and start impressing your professional contacts with a sleek and sophisticated digital business card.